So its a Saturday, you wake up and look out the window. Blue skies & it looks like its going to be another gorgeous day, now the big question… what are you going to do today?
Coffee (or tea) & breakfast, but in Pont Saint Esprit!
During my stay here it didnt take long for me & Simon to develop a routine that allowed us to get plenty of work done & also allowed us to explore and enjoy the area. Saturday morning was our market day (actually one of many) and we always hopped into the car and drove straight to Pont st Esprit for coffee & breakfast.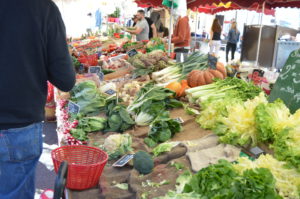 There are many ways that you can drive to Pont st Esprit from Maison Broche. There is the direct & quickest route over Bagnols sur Ceze or the backroad/scenic route over the valley which just happens to go past one of the nicest Monasteries in the Grad region. The Chartreuse de Valbonne is open to the public and is a perfect spot for a little stroll & a glass of wine. Yes, they also produce wine…… Im getting way ahead of myself! Below is the route to Pont st Esprit and back.
The first port of call upon arrival in Pont st Esprit is a good croissant & cup of coffee. Our standard coffee of choice is a "Grand Creme", which is a espresso with hot milk. Cappucinos, Lattes, Macchiatos are pretty much non-existant here. Our favourite Cafe is Le Concorde, 14 Place de la Republique. Its full of locals either having there caffeine fix or having a cheeky glass of Rose or Red. The Cafe is also recommended on Tripadvisor, follow the link here.
After our coffee & croissant fix we are ready to hit the market. The Pont st Esprit market is full of bustling stalls with the stall holders offering little tasters and calling out their special offers. Everything you associate with french culture & more is on offer, primarily local and seasonal delights. From cheese, hams, sausage, wine, olives, spices, lavender products, fish & meat. There is also plenty of fresh produce – fruit, vegetables, plants & honey. Fashion & style are also available with plenty of clothes, jewellery & shoes.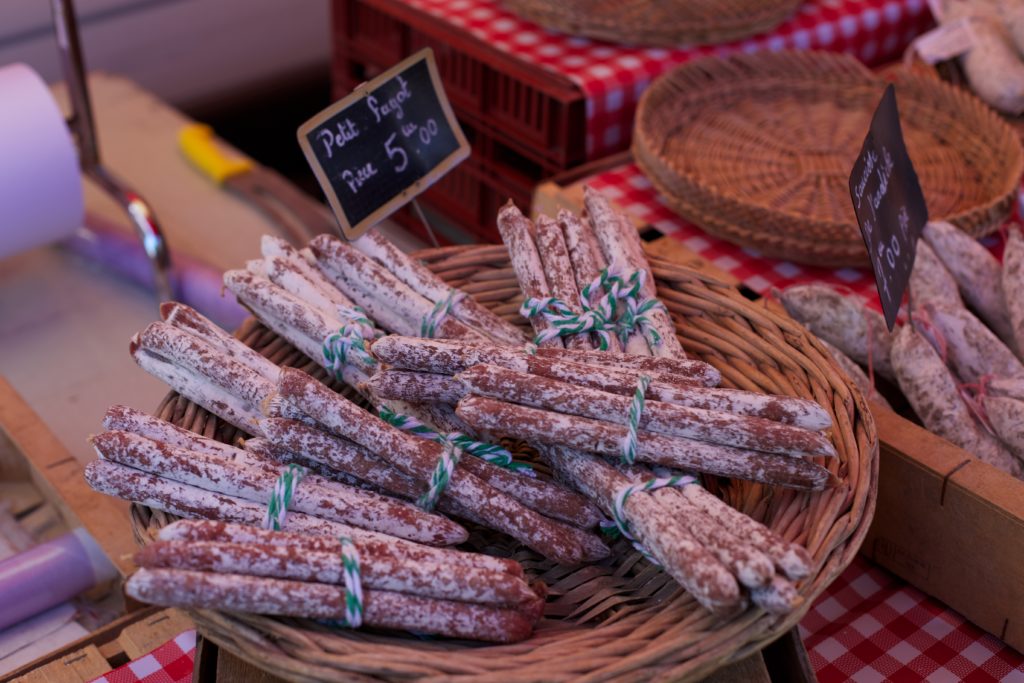 There is so much to see and taste, everyone wants to tell you about their products & its very easy to find inspiration for the upcoming meals. Th plant s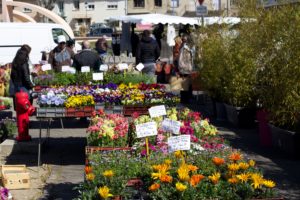 talls have a great range of local species and the stall holders are a brillant source of advice and information. A little local tip: always buy your fruit, veg, spices & olives in the Arabian part of the market. Its alot cheaper (when I say alot about 50%!!!) and the quality is just as good. And 2 other local tips: if you are looking for something specific, walk through the market once before you buy anything. Its probable that several stalls will have the item you are looking for. Keep an eye on the price, there can be shocking differences for the same item in a market. Also keep an eye on the weight or quantity as these can also range widely. For beer lovers who are looking for a good local beer, Pont st Esprit has a Microbrewery stall selling 6 different types of beer & ale.  The Microbrewery St. Sauveur is definetly worth a look..  very tasty 😉
So, what can you do after your Market visit on a sunny day? 
From the hustling market to Nature. Discover the days gone by, in the calm and relaxing Chartreuse de Valbonne!
We took the scenic route home from Pont st Esprit which brings us past the old Cartusian Order Monastery Valbonne. The small road winds its way up the valley and is surrounded by large Oak forest. The Monastery itself is located in a small Valley surrounded by Vinyards & forest. The Name "Valbonne", means good/nice Valley, aptly named I feel 🙂
Chartreuse de ValbonneThe Cartusian Order founded the Monastery in 1204.  After several wars, robberies & attacks the Monastery was nearly completely destroyed. The Monastery as we know it today was rebuilt in 1633. The Monastery is a listed building and is a protected cultural & historical monument. Since 1901 is it no longer a active Monastery. After many changes in ownership it is now owned by the  A.S.V.M.T., the "Association Secours Victimes Maladies Tropicales", who have looked after the Monastery since 1929. They are a non-profit Protestant Organisation.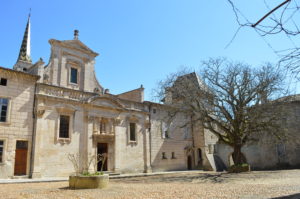 So that was a little background….for more info click on the link which will bring you to their official webiste here.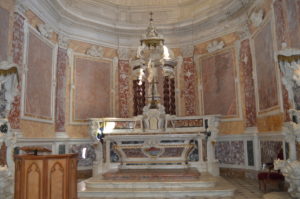 We were pretty much the only visitors in the Monastery and had the whole place to ourselves. This allowed us to have a chilled out stroll through the large gardens, the church & the old living quaters of the monks. Its hard not to imagine and think about the hundreds if not thousands of people who lived here and called it their home. It is beautiful but I couldnt shake off the nagging feeling of how strict and regemented their lives were here. The cold walls & corridors that seem to go on for ages, the little food doors used only to give praying monks food as not to disturb their prayers, their cells (sounds almost like prison not heaven) & the feeling of isolation. Outside the monastery you are surrounded by thick forest for as far as the eye can see. The people living here chose that life and I respect them for that, but I could never live in such isolation and would not have the discipline needed.
Long corridors criss cross the Monastery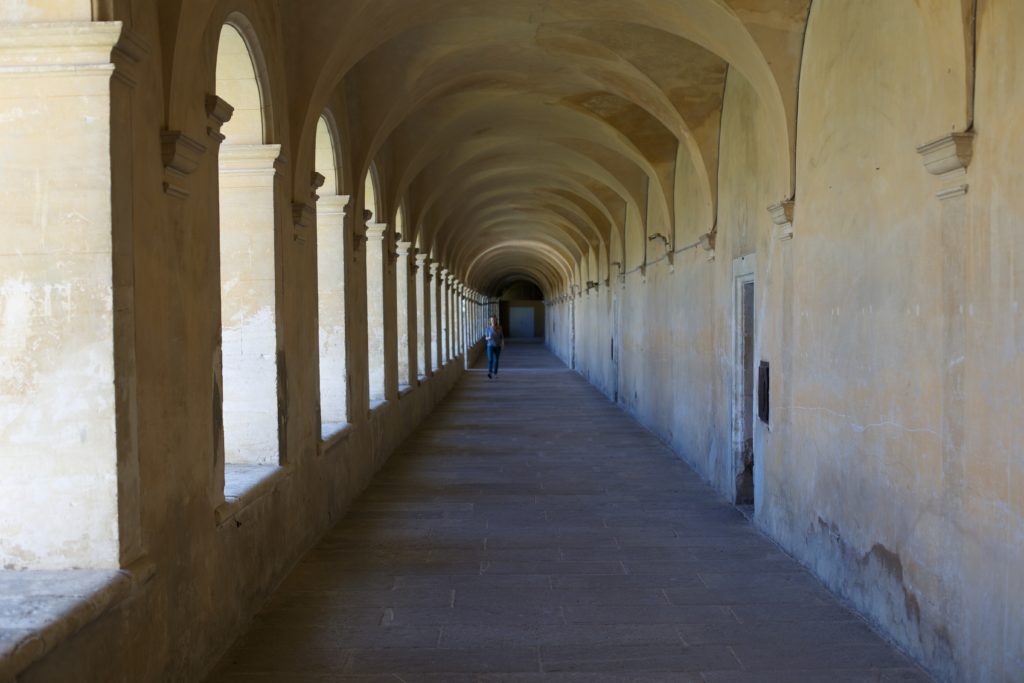 … and a look through a window into the large Monastery gardens.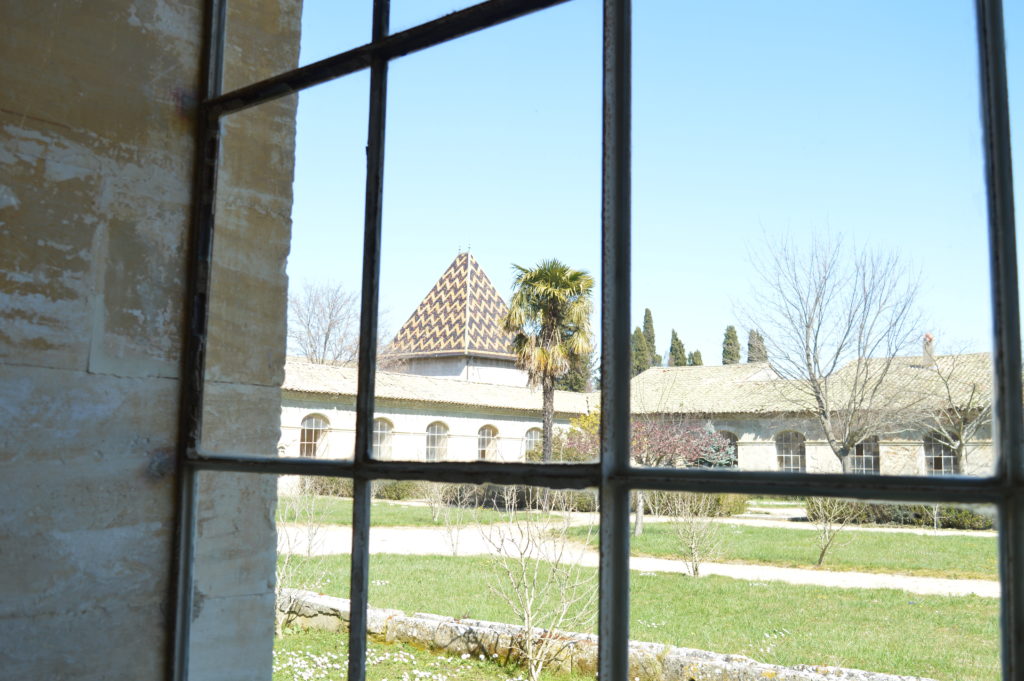 The colouful towers, all tiled offer a interesting contrast to the grey walls & structures within the Monastery.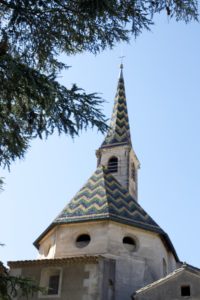 Admission costs €5 per person to get access into the Monastery & really is money well spent. They also have a Vinyard and produce a selection of reds and rose. Wine tasting & sales can be done on-site.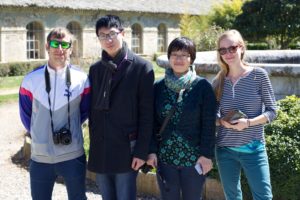 The Vallée de la Cèze has alot of hidden gems that you can see & do during your stay. For a comprehensive list of activities and things to do in the area follow the link here.
Anna